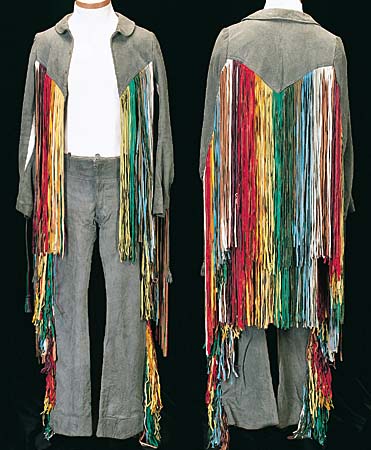 A fringed suede suit made for Roger Daltrey, late 60s
in grey with multi-coloured fringes to both jacket and trousers, each lined with grey leather and black polyester, the jacket with thong-fastening to the front and cuffs and a white leather strip set into each arm, the trousers with zip, clip and button front and flared legs (2)
some tears to polyester lining
This is one of several similarly-styled outfits made for Roger by the Skin Room, Ealing, London, circa 1968-70. At some point this outfit was returned to the company and when it went out of business shortly afterwards, this suit was given to David Warren, who helped design and make it, as compensation for wages owing to him. David continued making costumes for various stars but sadly, his career came to an end in 1975 when he was diagnosed with multiple sclerosis.

The above description is taken from the Sotheby's auction catalog where this item appeared. All 1960's vintage stage costumes of any type are extremely rare for The Who. Roger can be seen in many period shots in identical stage outfits in tan with white fringes.
These photos were taken on January 30, 1970 in Amsterdam, Holland and show Roger wearing the above stage outfit. Photos are by Henk Hulstkamp. Click here to check out Henk's page.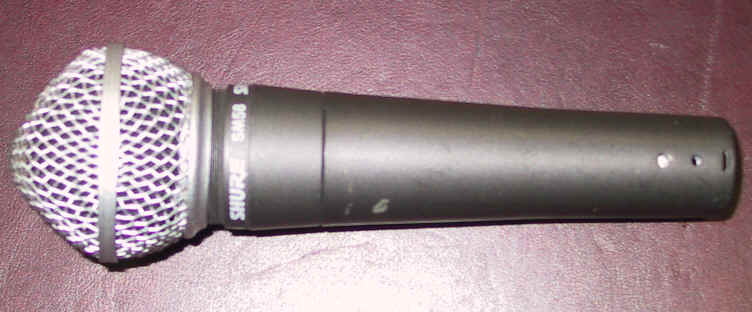 This Shure SM58 microphone was used on stage by Roger Daltrey on August 24th, 1989 at their performance of "Tommy" at the Universal Amphitheater in Los Angeles, California. This particular piece shows heavy dents in the mesh from Roger's hitting the stage with it. It was acquired from Roger's business manager of the early 1990's.
This pinball machine, "The Wizard", was produced by Bally in 1975 to coincide with the movie release of "Tommy". The image on the glass features Roger and Ann Margaret. Also shown is the Bally promo poster for the machine.
.