REPRODUCTIONS AND FORGERIES
With the relatively recent run up in prices of the high end poster market has come a new era in creating reproduction concert posters. In my mind, the difference between a reproduction and a forgery is that the reproductions are marketed as reproductions in the 10 to 20 dollar price range for the people that don't care if they have an original or not. Many of these can be found on E-bay with just a little bit of searching.
Forgeries, on the other hand, are posters that are created to trick the unsuspecting buyer into thinking that they are vintage posters created at the time of the actual concert. They have sold anywhere from 100 to 2500 Dollars.
Reproductions

I think the perfect reproduction to start off with is this Marquee Club poster for the band's weekly show at the Marquee Club in London. This has to be the most duplicated poster in all of the rock poster field. It has been duplicated dozens of times in dozens of variations on just as many different types of paper stock. It was being knocked off as early as 1965 in my opinion and was given out by Track and Decca records with every copy of "Live At Leeds". It continues to be readily available on E-bay and in various other auctions.
These three Detours posters are reproduced from the book The Who Maximum R & B by Richard Barnes. They all measure 11 1/2 by 16 1/2 according to the vendor. See below.
These two High Numbers posters are part of a group of about a dozen that are sold on E-bay by the seller name: maximum_rnb. The one on the left is a duplicate of a poster shown in the book The Who Maximum R & B by Richard Barnes for their weekly Tuesday night gig at the Railway Hotel in Harrow. The one on the right is actually the handbill for the show on August 23rd, 1964 at the Hippodrome in Brighton. You can see the original poster and handbill under the section of Who posters 1964-1966on this site. Both posters measure about 11 1/2 by 16 1/2 according to the vendor.
These four Who posters are reproduced from various sources and are sold by the same vendor as the above, maximum_rnb on E-bay. They are all 11 1/2 by 16 1/2 as well.

This poster is a fantasy piece of the above show at the roundhouse-Chalk Farm on November 15, 1968. This poster was recently marketed on E-bay as one of a limited edition of 200.

This poster is a reproduction of the 1960's sheet music for the song I'm A Boy. Commonly available on e-bay for around 20 Dollars.

This is a recent reproduction of a UK promo poster for the single " Magic Bus". There is a real poster which can be seen on the Promo Posters section of this site. This poster is marketed by the E-bay seller: hapshash at around 10 Pounds.
These three posters are not reproductions but are more what I would term " Fantasy" pieces. They advertise concerts that did take place but the graphics and the photos were all created in the 1990's when these posters were fabricated. These are usually on heavy card stock and are readily available on E-bay in the 5 to 15 Dollar range.

This German repro poster is for a gig dated April 10th, 1967 at the Jaguar Club. Interestingly, the band did play this show in Herford West Germany on this date but these posters are modern day repros.

This is a reproduction of a poster for a show on December 22, 1967 known as "Christmas On Earth" starring Jimi Hendrix, The Who, Pink Floyd and others. This reproduction was offered by E-bay seller 4ad_23 in Sweden and was represented as 50 X 75 CM or 19.7 X 29.5 Inches. This extremely scarce poster is occasionally available and can be seen in the section > Posters 1967-1969.

This was for a show on December 14, 1969 at the London Coliseum. According to Joe G. approximately 500 copies of this poster were produced in the early 1980's by Norman Feinberg from Joe's original. Originals of this poster are very occasionally available. There is a genuine one from a different venue listed on my page under> Posters 1967-1969.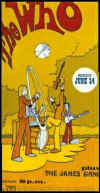 This poster advertises a show at the Philadelphia Spectrum on June 24, 1970. As far as I know there are no known copies of this poster that are real. They are all reproductions that have been extensively marketed over the last few years.
This poster was recently advertised on E-bay.

This is a repro poster for the 1971 UK Tour. This item is occasionally available on E-bay, although not always represented as such. In addition, these are occasionally available that are real. That is, they were made in 1971. Unless you know for sure where the poster has been all of these years it's best to use caution.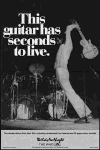 This poster is a reproduction of an ad for a trade magazine from the mid 1970's. This image, although famous, was never produced as a poster to my knowledge. Joe Giorgianni has taken the time to produce a high quality reproduction that he sells on his website as a poster. Click Here To Order

This is a reproduction of a poster for the Boston Tea Party. Originals do exist of this and are quite scarce. The reproductions are available on E-bay from time to time. Seller states that it is 60 Cm X 80 Cm.

This reproduction was recently listed on E-bay. The seller states that it is 500mm X 700mm or approximately 20 by 28 inches. He also states that it is on heavy 190 gram paper. This fact distinguishes it from the originals which were printed on very light fly paper stock.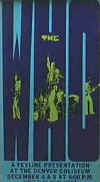 This is a poster for a show at the Denver Coliseum on December 4 & 5, 1971. I believe that there are real posters with this image, but reproductions are readily available from Germany.

This is a recent reproduction of Bill Graham poster for the San Francisco Cow Palace on November 20, 1973. This was recently marketed on E-bay in the 15 Dollar price range.

This is another very common reproduction. The original of this poster is by the artist Gunter Keiser and advertises a German gig on February 28, 1976. The reproductions look like the one above. The real ones have the date and venue information prominently displayed.
Forgeries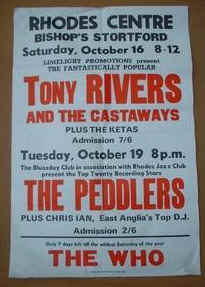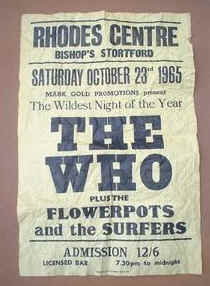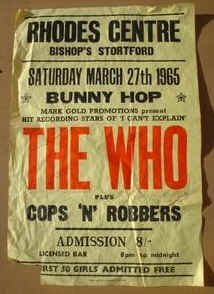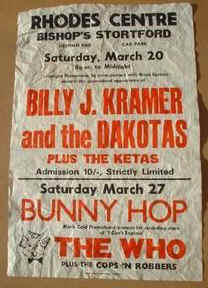 This very clever group of forgeries came up a couple of years ago at a couple of auctions both online and at Bonhams Auction House. When listed on E-bay they sold in the 1250 to 2500 Dollar price range. They are designed to look old, wrinkles and all. The fact that they included original art like the bunny face was very convincing. At first I couldn't put my finger on how they could have duplicated them so accurately with the prices and back up bands. Then they were listed on E-bay by the original promoters along with a book that had been written on the subject. (See update below) This was the final piece of the puzzle, they had all the artwork and info because the information was readily available to them in a book. The thing that makes them forgeries in my eyes is that the sellers are looking to get 100 to 2500 Pounds for them not 10 to 50 Pounds that a reproduction might cost. The key clues that tell that these posters are fake are the following:
A. They have the year of the concert printed on them. Very, very rarely were the years of the concerts printed on them. They were made to advertise a concert and then be thrown away.
B. Along with posters for The Who were posters of various other bands including Pink Floyd, David Bowie, The Yardbirds and Cream. These posters dated from 1963 to 1967, yet during that entire time the artistic style never deviated at all.
C. One of the posters that they had advertised a gig by Pink Floyd. When that show took place the band was known as The Pink Floyd. Although a minor detail it is only in the 1970's that the band changed to Pink Floyd.
D. All of the posters had a consistently "wrinkled" look about them like they were trying to make them look old. Making paper look, feel and smell 35 years old is easier said than done.
E. Lastly the final, incontrovertible mistake that they made was that on the poster shown below they got the year wrong! The Who did play a gig on Friday March 25th at the Corn Exchange but it was in 1966 NOT 1965. March 25th fell on a Thursday in 1965 and saw The Who playing on BBC television in Manchester. This poster was part of a different group of posters from the same two promoters, Alan Goldsmith and Mark Gold that sold in an earlier auction. Included were some of the same ones from the E-bay lot.
Update May 2004: I mistakenly assumed that the promoters had written the book on the subject but in fact it was written by a completely disinterested third party. I was recently contacted by the author of the above mentioned book to set the record straight. Steve Ingless wrote the excellent book called "The Day Before Yesterday" detailing all of the bands that played in his hometown of Bishops Stortford from 1957 to 1969. He pointed out that he was the author of the book and that in fact he has no relationship to the promoters and forgers at all. In fact, he says that he interviewed Alan Goldsmith for the book in 1997 who stated at the time that there were NO posters left in existence for these shows.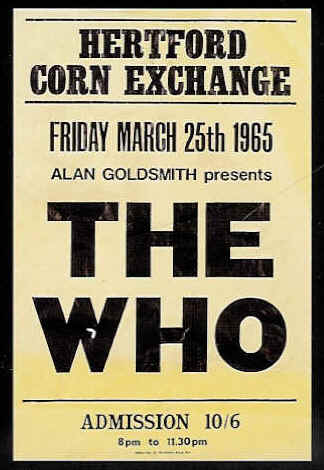 Of course there is the Forgers side of the story. They were, in fact, the original promoters. They never actually said that these posters were created in the 1960's. They merely said that they originally promoted these artists in the 1960's at their club and that they created these posters which is undoubtedly true. They started their auctions off at 10 Pounds each with no reserve, so as not to imply that they were real based on price alone. As I have learned myself over the years, " Let the buyer beware".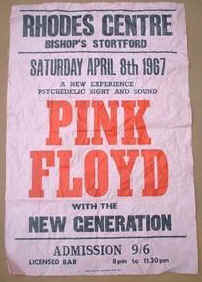 Here's a picture of the Pink Floyd poster from the same vendor and the same E-bay auction.



The Following text was taken from the E-bay seller's auction on February 17, 2007.
This kit is a 100% accurate replica of the custom made Premier kit that Keith Moon used from 1967 to 1970. This kit was custom designed and built by Premier Drums for Keith Moon and was not available to buy from Premier retailers either at the time or at any point since. Moon can be seen using the kit on Rolling Stones rock & roll circus DVD and it was also the kit used at Leeds on Feb 14th 1970 when one of the greatest live albums of all time was recorded (Live at Leeds).
The kit includes some very hard to find components.
The kit is made from genuine vintage Premier shells which date back to the 60s when Moons kit was built.
All lugs,tension rods die-cast hoops etc are also of this era.
Moons Premier kit featured Rogers "swivomatic" tom mounts (so this kit has the same fitted)
the bass drum with the double tom mount has Rogers spurs and the other bass drum has Premier.This is not a flaw,this is also the way Moons kit was made.
The kit also has the internal strengthening that the original had fitted ( to withstand throwing floor toms or kicking the kit over if you so wish)
The kit is fitted with original Premier everplay extra heads on bass drums,floor toms and bottom of mounted toms with top of mounted toms having Remo embassadors fitted.
The shells are two 22"x14" bass drums / one 16"x16" floor tom / two 16x18 (deep) floor toms / three 14"x8" mounted toms. all with exeption of the bass drums have original Premier dampers.
All the drums are international size including the 16x18 floor toms which are very very rare in 8 lug form !!!
The kit is then clad with mirror chrome wrap and looks amazing!!!
As far as i am aware this is the only kit of its kind and if there is another like it out there somewhere i quite frankly am confident that it would not be either as well put together or as accurate a reproduction!!
And for the record,,,,THIS KIT SOUNDS AMAZING!!!!
If you have any questions about the kit or would like to have any other of the kits that Moon used reproduced please contact me on 07878 285145
I reserve the right to end the auction early and/or cancel bids as the kit is advertised elsewhere.
if wishing to bid from outside u.k please contact me for shipping quote before bidding as the price below is u.k shipping only!! You have been told.

On 16-Feb-07 at 23:00:33 GMT, seller added the following information:
THIS KIT IS SOLD!!
.